---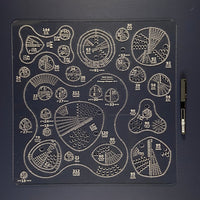 This Gear Set is designed to be a companion set to the Compact or Full Page Gear Sets. The Full Page Gear Set is recommended.

This gear set is 15 x 15 inches (40 x 40 cm) and is designed as a companion gear set to work well with other sets (like the Full Page Gear Set or Compact Gear Set). This gear set will provide 32 strangely shaped gears including triangles, squares, pentagons, septagons, and various shapes that are not easily described. The gears range for 15 teeth (<1 inch across) to a whopping 312 teeth (approximately 9 inches across).

It is recommended to pair this gear set with another gear set.