---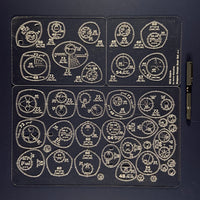 The Shapes Hoops Gear Set is focuses on enabling gear in gear designs with the middle gear being a non-circular gear.

This gear set has multiple gears with the same tooth count. They are in different shapes or positions which allows for them to make deigns with the same number of petals but strikingly different shapes. This is especially exciting for composing larger pieces of art using several different designs.

A secondary theme of this gear set is small gears with non-circular pen holes. The half circles, triangles, squares, diamonds, and other shapes make striking angular designs, reminiscent of those made with non-circular gears.