---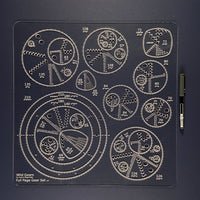 This Gear Set is a large stand alone Gear Set with everything you need to enjoy Wild Gears.

The Full Page Gear Set V4 is cut from a 15x15 inch sheet of clear acrylic and contains 28 gears ranging in size from 12 to 210 teeth. This gear set was designed specifically to make designs that fill a standard sheet of paper. Though using different gear combinations can yield designs from less than an inch in diameter to designs >20 inches in diameter.

This gear set includes two triangular gears and a square gear. All of which work with the other gears in the set.

The Full Page Gear Set includes the following gears:

12, 13, 14, 15, 16, 20, 22, 24, 25, 28, 32, 35, 42, 45, 56, 63, 70, 80, 84, 108, 126, 135, 140, 180/140 hoop, 210/180 hoop, 48 (triangle 78/18), 69 (triangle 120/18), 72 (square 120/24)


The gears come with three sizes of pen holes to make it possible to use a wide variety of writing tools; from fine tip pens to large sharpies and crayons.

This gear set is designed to make a wide array of different designs and was laser cut for high precision beautiful art. These gear sets include the unique ability to make parallel designs.