---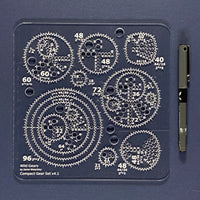 This Gear Set is designed to be a stand alone Gear Set with everything you need to enjoy Wild Gears.

Compact Gear Set contains 16 gears ranging from size 12-96 teeth and includes one triangular gear and one square gear. The Compact Gear Set measures 7 inches a side and is a beautifully compact bundle of fun.

The gears come with three sizes of pen holes to make it possible to use a wide variety of writing tools; from fine tip pens to large sharpies and crayons.

Gears included in the Compact Gear Set:
12, 14, 16, 18, 21, 24, 32, 36, 48, 60, 64, 72, 80/64 hoop, 96/80 hoop, 40 (square 64/16), 48 (triangle 64/36)

This gear set is designed to make a wide array of different designs and was laser cut for high precision beautiful art. These gear sets include the unique ability to make parallel designs.