---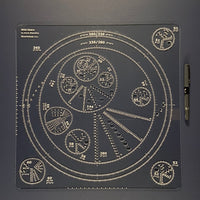 This Gear Set is designed to be a companion set to the Compact or Full Page Gear Sets.
The Enormous Gear Set v4 is cut from a 15.75 inch x 15.75 inch sheet of acrylic and is designed to produce the biggest gears and designs possible. The largest gear in this set measures 14.5 inches in diameter.
This set includes the following gears.  The dimensions listed are the diameter:
360/336 hoop (14.4 inches, 36.6 cm),

336/280 hoop (13.5 inches, 34.2 cm),

280 (11.2 inches, 28.5 cm), 

144 (5.8 inches, 14.8 cm), 

66 (triangle 120/48), 

60 (square 80/40),

60,

58,

52,

51,

44,

39,

37,

24
This set can be used on its own but was designed as a companion set for the Full Page Gear Set or the Plentiful Gear Set.
This Gear Set is an expansion to Wild Gears. The Full Page and Compact Gear Sets are the two base sets for Wild Gears. All the other Gear Sets are designed to work in conjunction with one or both of those sets. If this is your first Gear Set it is recommended that you start with the Compact Gear Set or Full Page Gear Set.
The square frame of this gear set is 40 cm x 40 cm, this is the standard size of a large gear set. 
This gear set comes with a set of doughnut pieces: 3 of each 4 medium sizes, 1 of each of the 8 large sizes, just like is provided in the doughnut card.
Pen for scale; pen not included.