---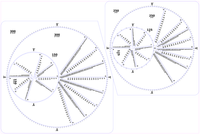 This is a listing for a custom set of large gears.
There are not many gears larger than 8 inches in diameter in all the other Wild Gears gear sets.  This is because they take up such a large space that only one can fit on a sheet and it is a large part of a whole gear set.
This offering brings customization of large gears into your hands.  If you are interested in this listing you probably know what you want out of a big gear, and now you can it.
This bespoke gear set will be laser cut out of one sheet of 60 cm x 40 cm (24 inches x 16 inches) but it will be cut into two parts sized for the gears chosen to make use and shipping easier.
The core of this gear set is that you can pick two gears and I will design them for you.  The combined tooth count needs to be less than 551.  Neither gear can be more than 360.
Each of the two big gears may include one or two gear cutouts.  If you want those gear cutouts to be internally finished so that it is a gear in its own right rather than just a plastic shape with no pen holes or numbering please be sure to select the 'finished gear cutouts' option from the selection menu.
This is an experimental offering with limited stock of acrylic sheets.  There are only about 30 available.  If this is popular I will expand the acrylic stock I carry in this size, but it will be several months before I can re-order more.  So act fast if this is something you'd like.
Customized gears pairs will be listed with a picture for a moderate discount from the full Bespoke large gears price.
I've created a form to collect the information for making these gears.  It will ask for an order number; this is not strictly necessary but if it will make it much easier to form entries and orders.
All Bespoke Enormous gear set designs will be confirmed by email for final approval before they are laser cut into acrylic.  
This process will take longer than ordering an ordinary gear set so please expect it to take a few days for any order with a bespoke gear set to be finished and to ship.